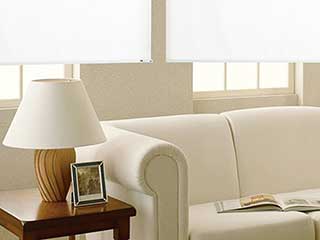 Turn an uncomfortable room into an attractive place to spend time with our custom blackout blinds. You can decide on the exact combination of materials and colors you want. With our in-depth design process and in-person consolations, picking out the perfect dark window covers will prove easy. What could be a better fit for your Studio City business or home than window treatments built to darken rooms when closed? Use the best blackout blinds around to provide cover and comfort wherever you need it. You'll get to enjoy total privacy and protection from piercing sunlight with hardly any effort. Speak to our experts at Studio City Blinds & Shades today, and schedule a cost-free consultation at your property.
Huge Collection Of Cheap Blackout Blinds
There's no limit to the types of window covering we can provide for you. No matter the size of your window, or where it's located, we offer fully-custom blackout blinds that are made to measure for each customer. French doors with blackout blinds are one of the options we offer, and these treatments let you enjoy comfort and privacy without getting in the way of the door. Our options also provide excellent ways to improve your workplace, and blackout blinds for office windows are always a great investment. For the best prices on blinds in Studio City, we're the company you need to speak with. Call us today, and we'll find time to conduct a free consultation at your address.
Low Prices On All Blackout Blinds & Shades
Many Studio City homeowners think that improving their property always costs a lot of money. However, you can bring big improvements to any room without spending all your hard-earned cash. Simply pick the right blackout blinds, and you'll get tons of benefits. We take care of all the hard work, too. Our Studio City team takes measurements of each window we're fitting with new treatments. That means when you need blackout blinds for skylights, you won't spend any time up a ladder with a tape measure. Let us handle the hard work. All you need to do is decide on the right combination of materials and styles.
Studio City Motorized Blackout Blinds Experts
What's better than custom blinds for every room in your house? How about motorized blackout blinds that you can control from your smartphone? That's right, we offer an exhaustive range of modern remote control blackout blinds. This includes options for both wireless power and wired, depending on where they will be situated. That makes it easy to introduce amazing convenience to every room in your house. These are particularly good blackout blinds for bedroom use since it lets you sweep open the windows without having to leave the covers. Even better, our prices are very cheap.
Free Quotes On Blackout Window Treatments
Talk with our locally-based specialists at Studio City Blinds & Shades today to see how affordable our blackout blinds can end up. With our free in-person consultation appointments, anywhere near the Studio City area, you can easily pick and customize the type of blackout window blinds and/or shades you want for your office or bedroom.