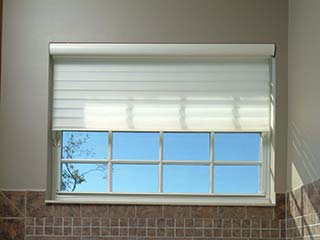 By using smart blinds indoors or motorized shading solutions outdoors, you can improve privacy, convenience, and energy efficiency in a significant way. Somfy blinds give users advanced remote control features for window treatments and patio covers, completely custom made to fit the desired space. Let automatic window coverings adjust themselves to keep the indoor temperature at a comfortable level. Push the button on the remote and roll out motorized awnings or other patio covers to increase shade in your Studio City outdoor lounge space. Whatever situation you need to add covering solutions to, Somfy blinds and shades offer the smartest choice. Literally!
Smart Blinds Motorized
Using advanced technology and Wi-Fi, you can connect Somfy blinds with different smart home systems. That means having an interconnected addition to help you keep the temperature indoors at the precise level you prefer. Smart blinds can utilize sensors to regulate their vanes and their position. This way you can use outside temperature as well as sunlight to save money on energy. Motorized smart Somfy blinds can make great use of natural lighting, adjusting themselves to let it in during the day and block off visibility at night.
Motorized Awnings and Pergola Canopies
With covers for your Studio City patio, you've got plenty of motorized shading solutions available. Somfy's patio cover options ensure you stay protected at all times, with remote control handsets or sensors for ultimate exposure settings. You can even have Somfy solar-powered shades as the patio covers. From blackout or sheer pergola screens to motorized deck canopies, Somfy shading solutions bring the most utility and functionality to outdoor coverings. And with custom designs, you can choose colors and materials, as well as motorized remote control features that you prefer.
Studio City Somfy Shade Solutions Custom Made
Enjoy the wealth of choices we offer for Somfy blinds and shades in Studio City and see which combination provides the best choice for you. With advice from our experienced Somfy experts, you can try out different selections and consult with professionals on décor and utility. For a free estimate on any Somfy shading products you're interested in, schedule a consultation today!