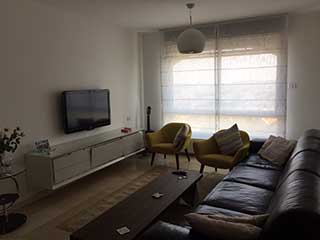 What's more fundamental than privacy? A home that makes you feel like you're on display isn't comfortable at all. You and your family won't ever feel relaxed, so it's essential to choose custom window coverings that keep out prying eyes. To help you make the right choice, we've put together this list of some treatments for making your property more private.
Plantation Shutters –Rustic Appeal For Your Studio City Home
You'll benefit from more than improved privacy when you choose plantation shutters. These window coverings are trendy because they look great as well as offering a way to keep your home private. Our plantation shutters come in various sizes, as well as in a wide range of different finishes. These window treatments offer privacy with just a simple flip of the shutters. That makes them ideal for pretty much every room. That's why plantation shutters are one of the most popular types of treatments for windows.
Blackout Blinds – Keep Your Studio City Bedroom Covered
In many cases, it's not enough to choose standard light filtering blinds. This is often true for bedrooms, where your property may be backlit in the evenings. This typically makes it easier for people to see in. When you need to prevent this, choose blackout blinds. Thanks to the thick material they're made from, our range of blackout blinds prevent light from passing through. This makes them an ideal choice if you need extra privacy in your Studio City bedroom.
Venetian Blinds – Privacy On Demand
Our selection of Venetian blinds for windows and doors offers you an easy way to add privacy to your property. These window coverings are an ideal choice because they come in many different designs, all of which incorporate excellent privacy. With just a twist of the control rod, you can easily prevent onlookers peering into your home. Why not pick Venetian blinds in any material or color you want? You can choose PVC, aluminum, vinyl, or various faux wood materials.
Cover Any Large Windows With Vertical Blinds
Whether you choose wood, vinyl, or aluminum, our custom vertical blinds are perfect for protecting your privacy. These window coverings are particularly well-suited to covering large windows or sliding glass doors. Many homes in Studio City choose these vertical blinds because they can be put into position quickly whenever necessary. That makes it easy to let light in when you want it, and maintain privacy when you choose. If you've got sliding glass doors, then vertical blinds can cover them better than horizontal ones.
Why Not Choose Roman Shades?
If you're looking for window coverings that provide both style and privacy, you should think about custom roman shades. These treatments combine a vast range of attractive styles, including pleated and fishtail options, with an easy way to achieve privacy. That's why custom roman shades are such a popular choice in Studio City living rooms. Why not see what our range of materials and patterns could do for your property?
Window Treatments For Privacy In Studio City
Finding the right custom window treatments doesn't have to be complicated. You've got local Studio City-based specialists on hand to help. Give us a call to get a free estimate on blinds for bedrooms or other parts of your property that need privacy. We also offer blackout curtains as well as motorized roller shades made from opaque fabrics.