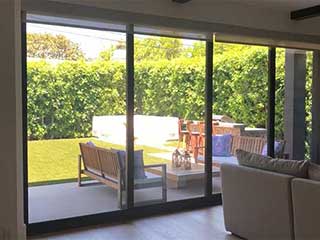 Improve the comfort and curb appeal of your local property by installing high-quality window coverings. Make your home stand out by installing real wood rolling shutters. Bring top-quality design into your house by creating custom curtains for your screen doors. We're proud to offer all these services and more throughout the Studio City area. If you want to find out more, we're happy to oblige with a free, no-obligation consultation at your property. Simply get in touch with our local team today to find out more.
Motorized Rolling Shutters
These top-quality window coverings provide a vast range of benefits. Not only do they prevent dirt and debris from getting to your windows, but they also complement the natural appeal of your property. Not only do they look great, but by investing in motorized rolling shutters you'll also get modern convenience as well. Control your window coverings quickly and easily wherever you are, without having to manually adjust them yourself. Many Studio City homes and businesses utilize motorized rolling shutters to give their property better security & appeal. You can do the same by calling us for a free estimate.
Affordable Patio Door Shades
Choosing patio door shades isn't always easy, but our impressive range makes the process stress-free. Find the ideal swinging or sliding door blinds easily, or create your own. Our representatives can help you at every step of the way, advising you on what colors and materials you can choose to create the perfect overall effect.
Studio City Vertical Blinds Specialists
We're proud to offer a huge range of high-quality vertical blinds to homeowners in your area. Tailor every aspect of these window coverings to your precise specifications, from the material they're made out of to the width of the vanes. This makes it extremely easy to design the perfect coverings, whether they're used as patio or sliding door blinds.
Blinds For French Doors In Studio City
Our selection of custom window coverings offers solutions for every problem, including French doors. Blinds for these doors need to be easy to use and unobtrusive, and our products meet these requirements perfectly. Simply select the combination of color and material that suit your property best, and we'll do the rest. You can even get a free quote from our Studio City-based French door blinds specialists if you'd like to find out more.
Cheap Curtains For Sliding Doors
Our range of sliding door blinds provides plenty of options, but soft furnishings are also an excellent investment. We offer plenty of different options, such as custom valances, blackout curtains, and even roman shades. This lets you pick and choose the perfect combination of designs to suit your home, safe in the knowledge that you're getting the best quality around. Find out more about our range of quality curtains and drapes for sliding doors by contacting our team today.
Free Quotes On Sliding Door Blinds
Find the best covers for your screen doors or wall-sized windows today. Close to Studio City? We provide the best prices on sliding door blinds near you, so call us to schedule a free estimate.