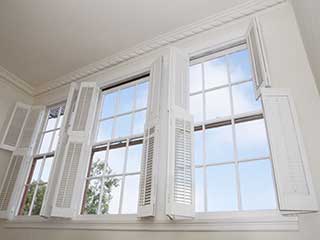 These window coverings are some of the most popular ones around. It's easy to understand why, since they're a great-looking window treatment that brings a lot of benefits. Choose custom plantation shutters in a wide range of different designs, including wooden shutters and exterior shutters. With free quotes in the surrounding Studio City area, our team will make sure you get the perfect new coverings for your windows.
Our Range Of Custom Plantation Shutters
It's easy to see why plantation shutters are such a popular choice amongst Studio City homeowners. There are many good reasons to choose them. Firstly, these window coverings bring a beautiful aesthetic to any property. No matter what finish you choose for your custom plantation shutters, they'll add a touch of class to your home. They don't just look great, though. Plantation shutters are very durable, and you can count on them to stand the test of time. Thanks to our high-quality construction process and emphasis on the best materials, you can be sure your new plantation shutters will be with you for many years.
Install Exterior Shutters For Your Home
One everyday use of these window coverings is as exterior shutters. There are several good reasons for this. By installing exterior shutters, you can free up more space inside your home. That means you can easily add a set of drapes or curtains inside, without losing much floor space. A collection of custom exterior shutters also protects your windows from damage, dust, and dirt. This can be a great way to keep your home looking great without the need for constant cleaning. Of course, another great reason to choose exterior shutters is how great they look. They're a superb addition to any home in Studio City, and our representatives are more than happy to show you them in person.
Our Wooden Shutters Are A Great Choice
If you're looking for a tried-and-tested material that will always look great, then custom wooden shutters are the way to go. We offer many different designs, allowing you to create wooden shutters that suit your property down to the ground. Choose between different finishes and designs, so that your new custom wooden shutters will be the perfect addition to your home. Wood is long-lasting and durable, and if it does sustain any damage, it's also reasonably straightforward to repair, making it an excellent choice for your property.
Free Quotes For Custom Shutters
Our Studio City team is always on hand to provide free quotes and estimates. If you'd like to know more about how custom plantation shutters could look in your home, then get in touch with us today.