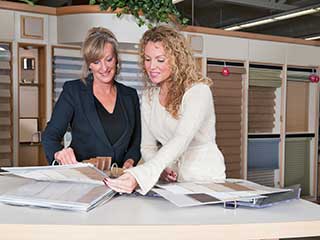 Windows are the center point in any room and create decorative and functional design statements. Instead of hiding them, you should be dressing them up, so they add to the look and feel of the room without any significant investments in renovations or additional furniture. Before choosing new shades or blinds you need to take several things into consideration.
Light Exposure and Privacy
What is your goal with your new window blinds and shades? Do you want to block out light or do you want to brighten the room but also filter harmful UV rays? Are the windows facing a sunny side? All these questions influence the style and fabric choice of your new window treatments. Some, like sheer and layered shades, can provide a versatile style that allows you to easily switch between privacy and light filtering options at will.
Best For Your Budget
Are you looking for new window treatments for one room or for the entire house? Some windows coverings will cost more than other types, depending on the material used, and their structure and utility. Blinds and shades are also priced in direct correlation to their size, so the larger they are, the more they'll cost. Still, it's important to ensure your new window coverings are custom made to fit the required dimensions, in order to keep unfiltered sunlight from getting through the sides.
Always Consider Maintenance
Blinds and shades collect dust and require maintenance. Certain types will more frequent and thorough cleaning, while others won't require but the occasional dusting. Do you want something that can be cleaned at home or requires professional cleaning services? If DIY is possible, how much time are you willing to spend doing it? Consider these things before choosing one type of shade over another.
Think About Style
Are you looking for something casual, chic or comfortable? Do you want something dramatic with a loud, eye-catching look? Are you looking for subtle hues to decorate a neutral room? Some covers, like Roman shades and wood blinds, offer an elegant and classy appeal, while others lean more towards the high tech and modern. Layered shades, for example, and various motorized cover options.
Safety Comes First
Do you live in a home with young children? If so, then getting cordless window coverings will be a must. Ensuring your window treatments don't pose a strangulation or entanglement risk is imperative, and achieving that is not difficult. You should also consider this an opportunity to go with the most advanced cordless blind and shade options available today. Those are, if you didn't guess it, motorized window treatments. The use of motors and wireless controls will allow you to operate the shades a lot more conveniently as well.
Consult With Experts
Naturally, by seeking advice and guidance from professionals you'll ensure you're getting the best deal and the most suitable products. But for the sake of a short summary:
Go For Blinds if:
You want adjustable slats to control the amount of sunlight. They are easy to clean and offer excellent privacy, in general. You can have blinds made from vinyl, aluminum, wood, and also various faux wood materials with beautiful textures.
Go For Shades if:
You want versatility and style, as well as beauty and decor enhancement. Window shades offer different looks and moods that come in various textures, fabric, and patterns. Of course, there are some that utilize adjustable vane control the way blinds do, so you don't have to settle on either beauty or adjustability, and can opt for both.
How to Measure Blinds and Shades
Measuring the space that you want to put up your window treatments will enable you to choose wisely. The type of installation will determine whether the frame needs to be included in the measurements or not. Knowing where the blinds or shades should go and how you want them installed will help you decide on which options are better for you as well. You can opt for inside-mount blinds or outside-mounted styles. Rather than doing this part yourself, our suggestion is that you have us handle it. Studio City Blinds & Shades offers professional installation services that ensure our custom made coverings fit perfectly from day one. Contact us for a free consultation at your home or business.