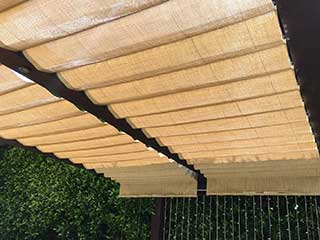 Keep unwanted sunlight out of your patio, courtyard or gazebo with our range of custom patio shades. We only supply products constructed to the highest standards, so whether you choose a motorized patio shade or outdoor shades for your courtyard, you can be sure you're getting the best around. Our Studio City outdoor shades experts provide free quotes and in-home consultations. Take a quick look at a few of the custom patio shades we can provide.
Low-Cost Motorized Exterior Shades
We offer custom motorized shades to suit any property. These systems bring a whole range of benefits. Your home will be even more comfortable and convenient than before, and you'll love the difference it makes. No more getting up and walking over to each screen when you need to make an adjustment. Simply press a button and adjust your motorized exterior shades to exactly where you want them. It's easier and cheaper than you'd think to install motorized patio shades. Get your free quote today from our Studio City outdoor sun shades experts.
Outdoor Sun Shades For Studio City Patios
With sheer exterior coverings, you can create various types of ambiances in your courtyard or backyard patio while also creating some shade. Patio covers help you enjoy this part of your property even when the sun is high in the sky. Having a shaded patio which you can enjoy throughout the day offers a lot of convenience. You can enjoy eating lunch outside with the right setup of custom sun shades. Enjoy the air without suffering from the harsh sun.
Top Quality Outdoor Patio Shades
Plenty of patios and gazebos provide no shelter from overhead sunshine. This can be a problem, especially if you want to spend a lot of time outdoors. Too many homeowners get sunburnt and overheated easily because they can't keep the sun away when they need to. Our range of custom exterior sun shades is the perfect solution. Simply adjust these coverings to provide as much shade as you need, whenever you need it. Get more out of your courtyard or patio by installing high-quality overhead shades.
Waterproof Outdoor Shades - Affordable And Effective
Some Studio City homeowners might want to keep more than just sunlight away. Nothing spoils a relaxing evening on the patio as quickly as pouring rain. Your patio furniture will get soaked, and so will you. You can make this issue a thing of the past when you choose custom waterproof shades. These keep water away from your patio, so even when the rain's coming down you can still enjoy your courtyard, gazebo or other outdoor areas. See how little this could cost by scheduling your free estimate today.
We're The Studio City Patio Shade Specialists
We're based in your local area, and we're proud to provide top-quality patio shades of all types to local homeowners. Our Studio City team is always on hand to provide expert advice and assistance. Why not find out how our patio shades could enhance your home? Schedule a free in-person consultation today to learn more.