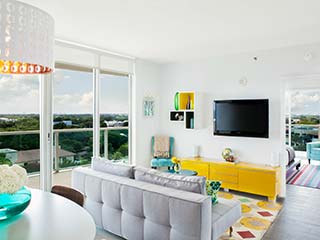 You can easily capitalize on the best window shade technology by investing in Lutron automatic shades. These high-quality products bring amazing looks, and they also offer a significant improvement on the comfort and efficiency of your property. You get a massive selection of different motorized shade products to choose from, from sheer to blackout materials for any room. Motorized shades allow you to pick whatever control type you want, which includes remote controls, dimmer switches, and wall mounts. WiFi connectivity makes this even more impressive since you can link your smart Lutron motorized shades to your smart home system. Our team helps people in the Studio City area find Lutron shades that perfectly suit their home or business. We offer free in-person consultations at any property in the area, and easy, free estimates on all automatic window covering systems.
Lutron Smart Motorized Shade Controls
Convenience comes with all Lutron shade systems, thanks to their innovative design and easy control methods. Elegant switches mount to your walls so you can easily adjust the position of your automatic blinds without any effort. You can choose to install dimmer switches or opt for remote controls instead. Or even both! These easy control options allow you to quickly control the levels of sunlight coming into your property. That's ideal for creating a comfortable home or business environment, and you're able to reduce or increase the temperature this way too. Thanks to a range of different material types on offer, you can select sheer or blackout motorized shades to suit your needs. Sheer Lutron shades diffuse sunlight evenly around a room and create a nice ambiance. For better sleeping and privacy, blackout Lutron shades are the ideal choice, as they cut out all light. Custom Lutron shades in Studio City are what we specialize in, and we recommend them as a great way to improve any house or workplace.
Studio City Lutron Shades Near Your Home or Business
Looking for a bargain on top-quality custom motorized window shading solutions? Our range of Lutron shades gives you amazing control over the style of your new automatic window coverings. From control systems to materials and overall style, there's almost no limit to what you can have installed. We provide made-to-measure Lutron shades for Studio City area buildings, suitable for all types and sizes of windows. All you need to do is contact us for a free, no-obligation estimate today.