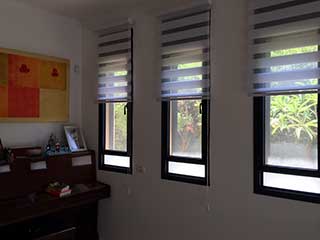 You may be wondering which type of window coverings to get? The answer depends on a variety of factors, including the type of room in question and your budget. What also needs to be taken into account is how much natural lighting you want. You also need to consider whether you want privacy over light filtering or the other way around. Some covering options are great at one aspect, and less so with another. However, layered shades, you get the best of both worlds, without having to needlessly compromise on one in favor of the other.
What Are Layered Shades?
Layered shades are a unique window treatment that alternates solid slats with semi-opaque ones, creating a stripe-like effect. They consist of two layers of shade, moving on a loop. When the sheer vanes sit against their counterparts on the other side, filtered sunlight gets through. When they sit against opaque slats, sunlight gets blocked, and the room darkens as a result. Layered shades are available in a range of patterns, textures, and colors. These shades can be a truly special stylistic piece in any room of your home; the kitchen, bedroom, office, or even as patio door blinds. Their unique look makes for an excellent decor contribution that lends to high tech and clean style. They look especially great when complementing the modern design of high tech office spaces. Partner that with motorized options and you've got a modern smart shading system that looks great and works smoothly.
What Do Layered Shades Offer?
Apart from lending you effortless light control, layered shades can also help you save on your heating and cooling, a.k.a energy bills. Their material can offer great insulation enhancement, helping you keep your rooms warm in the winter and cool in the summer. Any buffer between the interior and exterior of the room will help, and some materials do a better job than others. When raised, the shades stack flat, leaving you a clear, unobstructed view from the window. When lowered, they provide complete privacy. But that's not all. You can adjust their slats to let in more or less light as desired. For larger windows, a couple of separate shades will be easier to use and give you greater control of sunlight.
A Special Touch for Your Home Décor
If you're looking for quality custom made layered shades, the options you'll find with us will serve your needs perfectly. These window coverings are available in a variety of styles, colors, and textures and can fit anything from regular-sized apertures to large glass doors. Choosing the right type for your needs can require some contemplation. There's no one better to consult with than the experts at Studio City Blinds & Shades. Want to learn more about hand-drawn and motorized layered shades? Contact us to set up a free in-person consultation appointment at your home or office.