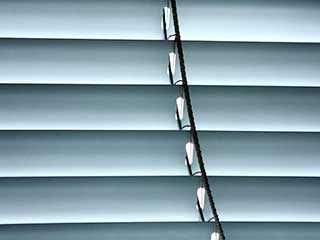 Picking out the right set of window coverings for your home is as important as the right shade of paint, and everything else that goes into creating the style of your household! Studio City Blinds & Shades is here to assist you in finding what will look best for your needs with our thorough experience, and free consultations. One of the types that might be perfect is Venetian blinds, as they've been a favorite for many, many years. To discover more about them, and the various materials they're available in, keep reading here:
Wood and Faux Wood Venetian Blinds
Wood Venetian window treatments are the best choice to create a lasting impression for your Studio City home! The beauty of natural wood is a classy look for the front room, bedroom, or even your home office. Our team will help you to find the perfect color of staining to suit the area in no time. Wood does require attention and care to keep looking it's best, but if that doesn't interest you, we have faux wood Venetian blinds as well! These appear to be the real thing but are low maintenance, and more affordable as well. So, whatever your preferences, we'll have the perfect fitting Venetian blinds for your windows.
Studio City's Best Metal Venetian Blinds
Matching the right type of window treatments to our customers' needs is what we do best, and we'll be able to suit your new Venetian blinds to your requirements easily! Do you need effective and affordable coverings for your business, and don't care about it looking fancy? Metal Venetian blinds are just that! They get the job done, and for the lowest price. We also have aluminum, which will last your home or business for a long while. Our experts also have choices for those who are looking to clean them easily with our PVC or vinyl Venetian blinds.
Upgrade Your Home with Motorized Venetian Blinds
One of the easiest ways to simplify your lifestyle is with motorized Venetian window coverings! Rather than needing to adjust the blinds in your home by hand, all you'll need is a remote control, a smartphone with the app or wall sensors to take care of it for you. It's surprising how much energy you'll save, thanks to being able to regulate the temperature and keep out direct sunlight as needed. It helps to protect your furniture from bleaching as well!
Blackout Venetian Blinds for Your Studio City Home
Blackout Venetian window treatments are just what they sound like, they create complete darkness in any room by keeping out light from outside. Our technicians make each set according to your windows' dimensions, which means there's no risk at all of cracks of light around the outside. This style is a must for anyone who needs to sleep during the day, has bright streetlights outside, or children who may be sensitive to light coming in while they're trying to sleep. You can also count on privacy, thanks to these Venetian blinds, if that's of any concern. Arrange a free estimate appointment to see all the available options.