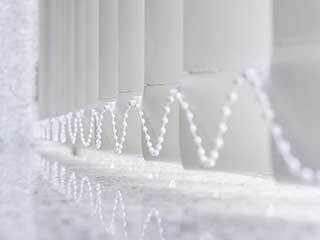 We supply a stunning range of high-quality vertical blinds. Choose between a vast number of different options, from warm and cozy blinds that are perfect for bedrooms to smart, understated designs that suit any office. Our selection of window coverings gives you the power to choose exactly what you want for your home or workplace. Take a look at just a few of the attractive, flexible options you can choose from. If you'd like a closer look, our Studio City-based specialists provide free consultations and estimates throughout the local area. Just get in touch to find out more.
Affordable Vertical Blinds For Office Windows
Who hasn't had to sit through a long meeting with bright sunlight dazzling them? This isn't just an unavoidable part of working life. Our range of vertical blinds provides the ideal way to minimize glare in your office. These window coverings are easy to adjust to whatever position you require, meaning everyone can be comfortable at your next big meeting. Comfortable employees can focus more easily, so choosing custom vertical blinds for your office is a smart business move as well.
Vertical Blinds For Sliding Doors
Homeowners also have problems with unwanted sunlight coming into their property. This is often a problem with sliding screen doors because these let in a lot of natural light. However, it's difficult to cover them properly and ensure your home is comfortable and private. Prevent this from becoming an issue by choosing custom vertical blinds for your screen doors. Our high-quality treatments are easy to adjust, so you can keep glare to a minimum. Your family and guests will thank you, and you'll feel more at home knowing that people can't easily see into your property anymore.
Motorized Vertical Window Coverings
One of the best ways to optimize your window treatments is to automate them. Our motorized vertical blinds offer Studio City residents and business owners high-tech shading solutions perfect for patio doors and very long windows. Motorized vertical blinds give you the option to control sunlight with the push of a button or with your smartphone. You can set a desired indoor temperature and brightness level and then have your blinds maintain it throughout the day using special sensors. Schedule a free estimate to see what sort of Somfy & Lutron shading control options we can install with your custom motorized vertical blinds.
Wide Selection Of Designs
We can offer many different options for you to choose from. This goes far beyond just choosing different colors. You can decide what type of fabric to go for, including blackout material and sheer fabrics. If you'd prefer wooden or vinyl vertical blinds instead we can create window coverings in these materials too. You can even alter the width of the vanes themselves. You can get a sense of our huge selection by scheduling a free consultation at your property in or around Studio City.
Best Vertical Blinds In Studio City
We pride ourselves on giving Studio City homeowners the best vertical blinds around. Not only are our window coverings constructed to very high standards, but our expert service means you'll be fully satisfied throughout. Get in touch with our team today to find out what we can do for you.