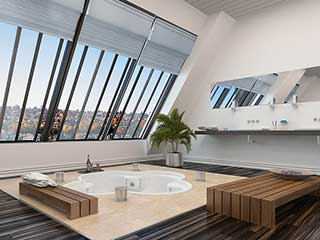 If you've been looking to purchase a set of blinds for your home, or have been wondering how to better take care of the ones you currently own, then you no doubt have a handful of questions that need answering. Well, Studio City Blinds & Shades is here to help with answers to some of the most commonly asked questions about window shutters, blinds, and shades.
How Do I Choose a Product That's Right For Me?
You need to start by considering your different needs. Do you need extra UV protection? Are you looking for enhanced privacy? Do you want something with a modern and stylish look? Perhaps you need a product that provides all three? Determining exactly what you're looking to get out of your new window treatments will make choosing new ones much easier. Remember, you can always set up a free consultation with us at Studio City Blinds & Shades to have an expert help you find coverings that are best suited to your home, whether cellular, layered or any other type.
Why Do I Need Blinds If I Have an AC?
Your air conditioner may be doing a wonderful job keeping the place cool, but rest assured that you can make things a lot easier on it with certain types of window shades. Making your AC work more easily will help you save money on energy and preventable repairs. Your windows are major sources of heat transfer. Laying a type of shading over them can help prevent or reduce this without preventing you from utilizing natural light. Window treatments can also block or diffuse UV rays which will otherwise damage your furniture over time. Cellular shades, for example, can do that, while also providing an air barrier to prevent heat from escaping. Their thermal efficiency will make your AC struggle less and last longer.
How Do I Protect My Furniture From UV Damage Without Covering My Windows?
There are a number of shades available that allow you full control over the amount of heat and light you let into the room. Sheer shades make for an especially effective solution. They diffuse sunlight while open, protecting you and your furniture from harmful UV rays but still letting natural light in.
So Which Blinds Do I Choose?
Well, as we mentioned earlier, it all comes down to your needs. Pleated window shades offer a certain appeal that others may not, while some types of coverings provide extra thermal insulation or light filtering options. The ultimate decision is yours to make, but you can always seek help from us at Studio City Blinds & Shades. Get in touch with us to schedule a no-charge consultation.