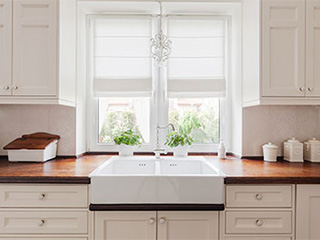 With their unique style, Roman shades can add a touch of elegance to every decor. Studio City Blinds & Shades offers a wide selection of custom made coverings of this type, which can significantly improve the look and feel of any room. They make for a great addition to living rooms, as well as to office spaces with a need for a more elegant and classic appeal. The unique way in which these shades fold and unfold when opening and closing makes them maintain their appeal throughout the day.
Fantastic Modern Window Treatments
Whether you prefer the classic pleated design or the contemporary flat one, Roman shades will undoubtedly make for an excellent decor enhancement. Their ageless beauty has been decorating the windows of homes and business establishments for a long, long time. Apart from adding unique, eye-catching beauty, these covering options also serve a functional purpose. The fabric they're made of can make them excellent at light filtering, granting you UV protection and sun glare reduction. Blackout roman shades can allow you to create a certain ambiance that makes them great for bedrooms, dining spaces or TV rooms.
A Lot Of Versatility
Roman shades can look just as great as you want them to. You can readily pick the color or color combination in line with your taste and the rest of your interior design. There are fabulous patterns to pick from too. You can easily create the cozy setting of your dreams with these beautiful window shades. You have your pick of fabrics too, as Roman-style coverings can consist of a range of materials. There are also valance options and various trimmings. You can also choose to go with shades with a hobbled fold or looped ones. You can also opt for motorized Roman shades that will lend the room a very magical vibe.
Custom Made Variety
All Roman shades in our selection offer a high degree of privacy. At the same time, you can choose the level of opacity depending on how much ambient light you want to get in when the window coverings are lowered down. With custom made Roman shades, you can easily make your kitchen brighter while ensuring that there will be no unfiltered light coming from the sides. Get them installed in the bedroom and sleep until noon on a Sunday without harsh sunlight shining on your closed eyes.
Our products come with a full and professional installation, but before getting to that, you'll receive a free, in-home consultation, to make sure you choose the type, style, and operation method that best suit your needs. Contact Studio City Blinds & Shades today for more information.